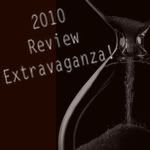 JANUARY, FEBRUARY, MARCH 2010
during which time i learned to bake bread.
which later gave me food poisening.
i think...
had a baby sprinkle,
not a shower.
put the tummy table into full working order.

started crocheting.
so as to fully live the life of pregnancy nesting.
although i still have 50 granny squares sitting somewhere in my basement.
then i scheduled my elective induction.
just b/c i didn't want to be pregnant for 41 weeks again.
and at 39 weeks gestation,
she graced us with her presence.
and last, but certainly not least, our little bieber fever turned 2.
he was still not speaking.
just grunting and pointing.
but oh boy,
has he made up for it now.
and i quote,
"mommy, you be rudolph, i be monster. now i whip you!"
i did not feel like doing a review.
it sounded like something i did not have time for.
i can't tell you how glad i am that
emmy
got me to do it.
it really is getting rid of that sticky little grinch.
don't forget to link up, starting @ 10:30pm!